MAROUANE FELLAINI BACKS MOURINHO
Louis van Gaal was dismissed from Stretford End in 23 May, 2016 and within 72 hours replaced with former Chelsea boss Jose Mourinho.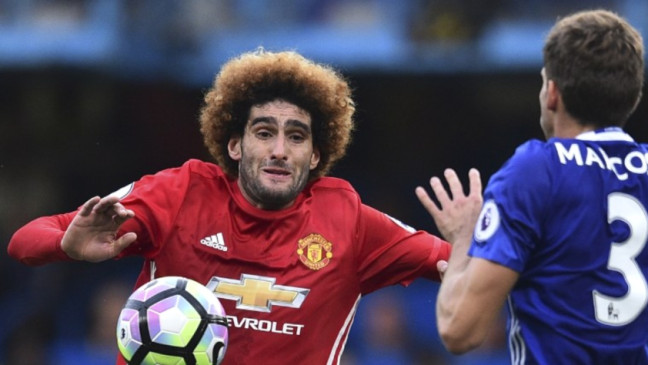 The self acclaimed Special One – or is it Happy One? – has of recent come under series of attacks from fans and trolls alike for his team's poor start to the 2016/2017 Premier League season – their worst ever in the Premier League era).
Manchester united midfielder Marouane Fellaini offered some comparison with Louis and Jose's managerial styles:
"Louis van Gaal is stricter. Mourinho is strict, but not like Van Gaal," said the Belgian international.
"It is funnier with Mourinho, the training changes all the time. It is not a routine. Van Gaal had his philosophy and he was strict but he was very different." he added.
Fellaini however believes that Mourinho is the right man to take the Red Devils back to the perch Sir Alex Ferguson worked so hard to knock Liverpool off and place Manchester United on.
"I think Mourinho is the right manager. He has a lot of experience and he knows what he can do but you have to give him time as well so I'm sure the victories will come."
United's record slate reads * wins * draws *losses since the new season began in August. Still, the 29-year-old remains adamant. He maintains that it is part of being a big club.
"I think we started well. We lost two games and I think the problems started but that's football. In British football, every game is difficult. It is a big pressure. That's football at the biggest club, that's why, but I think we have to keep working and we will win games I'm sure."
The former Everton player also revealed where he thinks is his best position on the pitch after being deployed in just about every midfield position since his £27.5 million arrival from the blue half of Merseyside in the summer of 2013.
"In the middle of midfield is, in my opinion, my best position. I can play as a No. 6 or a No. 8 but in the middle is my position. It is hard to adapt to moving around, but I'm used to it. This season, I just play in the midfield defensively and I'm happy like that," he said.